Gouves Holidays
Crete Offers
Please note, prices in this grid are updated early each morning. For up-to-date prices, click through to the offer results. Final pricing is available when calling.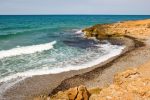 Gouves holidays take you to a purpose built resort on the north coast of Crete a few kilometres from the capital Heraklion. Having good sandy beaches offering a range of water sports, holidays in Gouves are popular with a wide range of people. The resort is a good base from which to explore some of Crete's most famous tourist attractions. Holidays to Gouves can be taken from Easter until October when the temperatures rise from the twenties to the low thirties at the height of the season.
Cheap Holidays To Gouves
If you are looking for an early spring break or wish to be assured of summer sun, you may be interested in one of our cheap Gouves holidays which are considered to be great value for money. The resort is self-sufficient with a wide variety of accommodation, numerous tavernas, bars and restaurants, and shops for holidays essentials. Being close to Heraklion and Rethymnon, there is ample opportunity for shopping. If you are looking for an escape from inclement weather our low cost Gouves may be just the ticket.
For further information and to view our latest Gouves holiday offers, please use the search facility.
Sorry, no reviews were found for this location.