Holidays from Dublin Airport (DUB)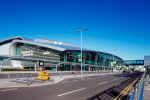 Dublin is the largest airport in Ireland, with 19 million people traveling every year, which has recently built a brand new terminal (terminal 2). The new terminal has very modern facilities and services available to use. If your flight is located in terminal 1: the modern section of the airport is easily accessible through a walkway where you can eat at a choice of restaurants including Thai, The Chocolate Lounge and a Burger King. Other services include a wide range of fashion, electronics and souvenir shops.
The Airport is a 15-20 minute drive from the Dublin city centre and has great access links via major roads. 1000 buses relay from the city centre to the airport every day so you are never stuck there without a cheap method of travel. There are also two organised taxi ranks in the airport to get you away as quick as possible.
The airport departs to many locations however mainly focusing on Europe, North America and the Middle East.
---
Cheap Holidays from Dublin Airport
Click on the prices displayed below to view our offers. Please be patient while results are returned. It may take up to 30 seconds.

From €97 per person
Bargain deals to Spain

Egypt Holidays
No Offers Available

From €173 per person
Cheapest offers for Greece

From €242 per person
Bargains to Bulgaria

From €171 per person
Cheap Cyprus holiday deals

From €175 per person
Great Turkey holiday offers

From €90 per person
Last minute Portugal deals

Caribbean Offers
No Offers Available

From €127 per person
Cheap Malta holidays

Tunisia Offers
No Offers Available
Please note, prices updated at around 14:00 PM each day. For up-to-date prices, click through to the offer results.