Playa Del Ingles Holidays
Playa Del Ingles Offers
Click on the prices displayed below to view our offers. Please be patient while results are returned. It may take up to 30 seconds. Prices are for 7 nights, departing in the next 28 days.
Please note, prices in this grid are updated early each morning. For up-to-date prices, click through to the offer results. Final pricing is available when calling.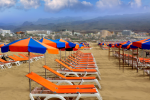 If you are seeking year round sunshine and a lively nightlife, take a look at our cheap Playa del Ingles holidays in Gran Canaria. This large and busy resort offers a sandy beach and is renowned for its verve and vibrancy which draws young singles like moths to a candle flame. Holidays in Playa del Ingles provide a variety of recreational activities, including golf, enough to keep everyone happy.
Cheap Playa Del Ingles
You can book one of our low cost Playa del Ingles with confidence knowing that our commitment to quality of accommodation and service remains high. Playa del Ingles holidays offer great conditions for beach lovers and water sports enthusiasts. A purpose built resort, what it lacks in culture, it more than compensates with fun and exuberance. Take a look at our holidays to Playa del Ingles and you could soon be sunning yourself by day and partying through the night. You'll be surprised by our wide selection of last minute Playa del Ingles holidays which won't break the bank and should leave you with euros to spare for the tax free shopping on the island.
Search now to find our latest Playa del Ingles holiday deals.
Sorry, no reviews were found for this location.