Santa Ursula Holidays
Tenerife Offers
Please note, prices in this grid are updated early each morning. For up-to-date prices, click through to the offer results. Final pricing is available when calling.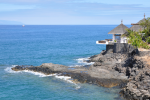 Santa Ursula holidays offer relaxation in pleasant surroundings in the north of Tenerife, close to Puerto de la Cruz. The fertile north has some stunning scenery with great views of Mount Teide. Holidays to Santa Ursula are popular with those wishing to explore the north of the island either by car or by walking in the hills and valleys. They offer many recreational activities and sightseeing opportunities. Hikers enjoy the fertile valleys and the mountain treks.
Cheap Holidays To Santa Ursula
Holidays in Santa Ursula can be taken at any time of year as the island enjoys hot summers and mild winters. With� first rate accommodation, our cheap Santa Ursula holidays offer very good value, particularly for families. Nightlife here is fairly low key with much of the entertainment being hotel based. Although shopping is limited, the close proximity of Puerto de la Cruz more than compensates. If you wish to escape our uncertain weather, surf through our Santa Ursula holiday bargains and you could soon be on your way.
For further details and to find our latest Santa Ursula holiday offers, please use the search facility.
Sorry, no reviews were found for this location.