Playa de las Americas Holidays
Playa de las Americas Offers
Click on the prices displayed below to view our offers. Please be patient while results are returned. It may take up to 30 seconds. Prices are for 7 nights, departing in the next 28 days.
Please note, prices in this grid are updated early each morning. For up-to-date prices, click through to the offer results. Final pricing is available when calling.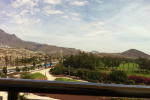 Playa de las Americas holidays can be taken at any time as the weather on Tenerife in the Canary Islands offers year round sunshine. This purpose built resort� has everything you need for fun-filled days by the sea. Holidays to Playa de las Americas have wide appeal. Families, groups of young adults, and couples of all ages, can all find plenty to do.
Cheap Playa de las Americas Holidays
We have a number of cheap Playa de las Americas holidays which are considered great value for money as our commitment to quality of accommodation and service remains high. Holidays in Playa de las Americas can be as relaxing or as energetic as you wish. A choice of beaches, three volcanic and three man-made from Saharan sand, offer a variety of water sports including wind surfing, diving, banana boating and deep sea fishing. A large number of restaurants cater for every possible taste, and bars, discos and nightclubs provide a lively nightlife. There are shops and stalls galore in the resort and if you book a low cost Playa de las Americas holiday, you could soon be bartering in the local local market for bargains. Tenerife has many tourist attractions including a water park and an animal park. A cable car ride to the top of Mount Teide gives superb views over the island. Use the search to find more information as well as our latest Playa de las Americas holiday offers.
Sorry, no reviews were found for this location.