Goa Holidays
Goa Holiday Deals
Sorry, we have no offers to display for this destination.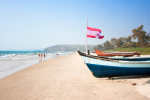 Goa holidays take you to an Indian State famous for its beaches on the Arabian Sea. Although part of India, its culture is very different from the rest of the country. Having been a Portuguese colony for hundreds of years, Goa has a large catholic and a large hindu population. Differences are seen in the architecture, the cuisine, and in the Goan way of life. The Goa holiday season begins in October and ends in May. June to September are best avoided as the combination of heat and humidity can be uncomfortable.
Cheap holidays to Goa.
Cheap Goa holidays can be enjoyed by all ages.
Seventy kilometres of beautiful tropical beaches, palms swaying in the gentle breeze, water gently lapping at the shore, are a magnet for families with young children, and also for water sports enthusiasts. You can try everything from banana rides and jet skiing, to kite-surfing and paragliding. Your Goa holiday can be as relaxed or as active as you wish. There are opportunities for jungle safaris, river cruises, and excursions to elephant camps.
Why Goa?
�
Choose your accommodation to suit your budget as there is everything from beach shacks and room only, to five star all-inclusive complexes. The standard of service is high with staff going out of their way to fulfil your requests. Goan food is a delicious combination of Portuguese and Indian influences. Roadside vendors serve great food so be adventurous and give it a try. Shoppers will be delighted by the markets. The Anjuna flea market is one of the best for your gifts and souvenirs.
If you are interested in a cheap Goa holiday, but you find the task of trawling for the best bargains through web page after web page, more than a little daunting, try our simple search facility. You'll find over three dozen travel companies competing for your custom. It is simple to use and remember, competition brings the greatest bargains. Our search facility enables you to see at a glance, the Goa holiday that is the cheapest, and the one that offers the best value for money.�
All you have to do to secure the holiday is make a phone call. To book the best deal, and to avoid disappointment, ring today.