Cheap Cruise Deals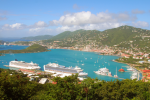 Cruising is a great way to visit a wide range of destinations on one holiday whilst you relax in comfort and entertained on the move.
From joining your cruise ship and until you return home, your cruise operator will look after you with entertainment, leisure facilities, a range of restaurants and bars. Many modern cruise ships have cinemas, casinos, a theatre and fitness centres on board, amongst their range of activities, to keep you entertained and make your cruise holiday an enjoyable one.
The bedrooms on a cruise ship are generally in a cabin, although you can upgrade on some larger cruise ships to suites, and are either inside facing or outside facing on upper decks or lower decks. The standard and facilities of the cabins can vary depending on the quality of the ship.
Popular cruises include a Med cruise (Mediterranean cruise), Caribbean cruise, Nile cruise, Turkish Gulet Cruise, Transatlantic cruise, Alaska cruise, South America cruise and Europe cruise. Within the Europe cruises, your options would include cruises around the British Isles, Scandinavian Fjords and Norway cruises. Whichever cruise you choose, you will have an itinerary to list your ports of call.
Turkish Gulet Cruises are a great way to sample the best of Turkey and you can often find some cheap cruise deals, however, rather than being on a large cruise liner, a Turkish Gulet is a smaller wooden boat with approximately 10 cabins and, generally, three to five crew.
Nile cruises are also extremely popular, especially as Egypt is an all year round holiday destination and offers great value for money for a cruise holiday. Most Nile cruises include excursions and the ships are generally smaller than the larger cruise liners.
Whilst the majority of cruises will consist of a flight to take you to the departure port (fly cruise deals), there are some cruise companies including P&O Cruises, Fred Olsen, Royal Caribbean International (RCI Cruises) and Thomson Cruises offer cruises from the UK, with most cruises from Southampton, a great option for those passengers who do not like flying.
The Holiday Discount Centre has some great full board cruise deals and mini break cruise offers available which are listed below. These are just a small 'hand-picked' selection and have hundreds of more cruise bargains available, so if your ideal cruise holiday is not listed, call our dedicated cruise operators, who are here and happy to assist you.
---
Cruise Deals
Cruise Deals.
Coming soon!