Side Holidays
We currently have no offers to display for Side.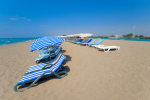 Side, one of Turkey's largest cities, is seventy five kilometres east of Antalya on the Mediterranean coast. Side holidays take you to a beautiful town on a short peninsula surrounded by shingle beaches and sparkling blue waters. Holidays to Side offer sun, sea and sand in an historical setting where narrow cobbled streets lead down to a bustling harbour. Holidays in Side are popular with a wide range of visitors with families, couples and young singles all finding something to enjoy. Apart from Side's beaches which offer a selection of water sports, there are soft sandy beaches in nearby Sorgun and Colakli.
Cheap Side Holidays
We have a number of cheap Side holidays that offer particularly good value for families who are assured of high standards in both accommodation and service. The modern resort of Side contrasts sharply with the old roman remains and the medieval streets of the old town. Those with an interest in the past will find much to occupy their days. If you are looking for an early spring break or a summer with a guarantee of sunshine, surf through our low cost Side holidays and you will surely find one to suit. For further information, and to view our latest Side deals, please use the search function.