Agios Nikitas Holidays
Agios Nikitas Holiday Deals
Sorry, we have no offers to display for this destination.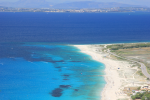 Agios Nikitas holidays transport you to one of the most beautiful villages on the north west coast of Lefkas. This area of the coast is surrounded by steep cliffs and hills except for this resort which lies at sea level. Holidays in Agios Nikitas have wide popularity with sandy beaches and safe bathing for children and plenty of water sports to satisfy the active visitor. A boat service takes holidaymakers from its own small beach to neighbouring resorts. Holidays to Agios Nikitas can be taken from April until October when temperatures rise from twenty to thirty degrees at the height of the season. With a guarantee of summer sun and warm clear water, good accommodation and numerous tavernas serving tasty traditional food, our low cost Agios Nikitas are sure to please. Surrounded by verdant hills and fertile valleys, waterfalls and towering cliffs, this beautiful resort offers a peaceful retreat from the stresses of twenty-first century life.
Cheap Holidays to Agios Nikitas
If you are seeking relaxing days by the sea followed by mellow evenings, you may be tempted by our cheap Agios Nikitas holidays.
For further information and to find our latest Agios Nikitas holiday offers, please use the search facility.