Vassiliki Holidays
Vassiliki Holiday Deals
Sorry, we have no offers to display for this destination.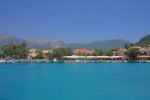 Vassiliki holidays take you to the south coast of the beautiful Ionian island of Lefkas. It is located� on a wide bay that is very popular with wind surfers. It is the second largest resort on the island and provides a wide variety of recreational facilities which means that holidays in Vassiliki appeal to many. The pebble and shingle beach washed by crystal waters offers safe bathing for children and less confident swimmers, and there are many opportunities for water sports. Holidays to Vassiliki can be taken from April until October when the temperature rises from twenty to thirty degrees at the height of the season.
Cheap Holidays To Vassiliki
We have a number of cheap Vassiliki holidays that offer great value as our commitment to quality never wanes. With good accommodation and numerous restaurants, tavernas and bars catering for all tastes, our low cost holidays are sure to please. Bars and clubs provide a vibrant nightlife and there are ample shops. If a greater variety is needed, there is a frequent bus service to Lefkas Town.
For further details and to view our latest Vassiliki holiday offers, please use the search facility.