Aspen Holidays
Aspen Holiday Deals
Sorry, we have no offers to display for this destination.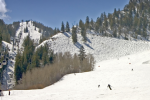 Aspen ski holidays are renowned the world over. Once the playground of the rich and famous, Aspen has continued to develop and grow and now both it and its satellite resorts are affordable.
At high altitude in Colorado, there is good snow cover throughout the long season which lasts from November until the end of April.
World class skiing.
Aspen and its satellites Highlands, Buttermilk and Snowmass Mountains, have over three hundred runs which cater for all levels of ability from absolute novice to expert. Both Snowmass and Buttermilk are ideal for families with wide open gentle slopes. Tuition is available for all age groups. Aspen Highlands have the best intermediate runs, and with over one hundred and fifty difficult runs, experts will never be bored. Boarders have a choice of snow parks. A good system of lifts, reached by complimentary buses, gives easy access to the slopes.
Cheap Aspen ski holidays provide excellent standards of comfort and service. Eating out in the US is always inexpensive and Aspen is no exception, unless of course you wish to dine in the top gourmet restaurants.
The town itself is great for shopping and nightlife is fairly lively.
The resort also offers a range of activities which include sledging with huskies, ice skating, snow mobiling, and snow cat tours. If you want an awe-inspiring spectacle, try hot air ballooning. It isn't cheap but the trip is unforgettable.�
Search today.
If� you fancy a trip to Aspen but find the thought of trawling through web page after web page looking for the best deal more onerous than trekking up a mountain without a ski lift, try our simple search facility. You'll find over three dozen travel companies, including leading brands, competing for your custom. It is simple to use, and remember, competition brings out the best bargains. Our search facility enables you to see, at a glance, the Aspen ski holiday that is the cheapest, and the one that offers the best value for money. It couldn't be easier. All you have to do to secure the holiday is make a phone call. As offers change daily, in order to avoid disappointment, you should ring today.