Holidays from Cork Airport (ORK)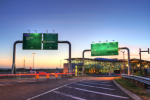 Cork airport is located in the south of Ireland and only a 10 minute drive from Cork City centre. Being the second largest airport in the whole of Ireland the terminal contains a wide variety of facilities from Internet connection to post boxes. You won't go hungry either: a Subway and plenty of cafes are available for the public. Located on the first floor is a shopping paradise where you can pick up a souvenir or two.
The airport flies to destinations in the UK and Western Europe which can then transfer you on to anywhere in the world!
Cork airport is easily accessible with great connections via the road with regular bus services to the Cork City Centre; taxis are also available from the airport with a journey costing you only 10 to take you to the centre of Cork. If you are departing from Cork there is a large number of parking spaces in the categories of short term stay and long term.
If you need to stay overnight or taking early morning flights: there are many bed and breakfast accommodation available to use nearby as well as lots of other services to make your holiday experience as comfortable as possible.
---
Cheap Holidays from Cork Airport