Kos Town Holidays
Kos Town Holiday Deals
| Date | All Inclusive | Half Board | Self Cat. | Full Board | B&B | Room Only |
| --- | --- | --- | --- | --- | --- | --- |
| Dec 2023 | - | - | - | - | - | - |
| Jan 2024 | - | - | - | - | - | - |
| Feb 2024 | - | - | - | - | - | - |
| Mar 2024 | - | - | - | - | - | - |
| Apr 2024 | - | - | - | - | - | - |
| May 2024 | - | €313 | €273 | - | €286 | - |
| Jun 2024 | - | €465 | €335 | - | €354 | - |
| Jul 2024 | - | €497 | €356 | - | €338 | - |
| Aug 2024 | - | €482 | €377 | - | €363 | - |
| Sep 2024 | - | €509 | - | - | - | - |
| Oct 2024 | - | - | - | - | - | - |
| Nov 2024 | - | - | - | - | - | - |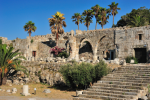 Holidays in Kos Town take to a city built around a busy harbour underneath a fourteenth century castle. It is an attractive town with a mix of the historic buildings and modern tourist accommodation, traditional tavernas and fast food outlets. Kos Town holidays are popular with couples of all ages as well as groups of young singles. The town is a favourite with sightseers with its squares and pretty gardens, its wide boulevards, and its historic buildings and ancient remains.
Cheap Holidays to Kos Town
Holidays to Kos Town offer both relaxation by the sea with an abundance of recreational activities and also a lively nightlife. If you are seeking sun, sea and a vibrant atmosphere, check out our cheap Kos Town holidays and you may be pleasantly surprised. Hotels and apartments provide comfortable accommodation, numerous restaurants and tavernas cater for every possible taste and bars, discos and clubs offer dusk to dawn entertainment. If tire of this and fancy a change of scene, there are excursions from the harbour to other islands and also to mainland Turkey.
For further information, and to discover our last minute Kos Town holidays, please use the search facility.