Tingaki Holidays
Tingaki Holiday Deals
Sorry, we have no offers to display for this destination.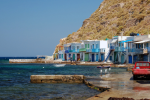 Tingaki holidays attract many visitors to this picturesque part of Kos, ten kilometres west of the island's capital Kos Town. Holidays to Tingaki are very popular with families because of the ten kilometre stretch of soft sandy beach sloping gently into shallow waters. Couples seeking a peaceful retreat also enjoy holidays in Tingaki with its warm friendly atmosphere.
Cheap Holidays To Tingaki
We have a surprising number of cheap Tingaki holidays offering great value to those wanting to escape from our unreliable summer weather. With accommodation ranging from luxury hotel complexes to self-catering apartments, restaurants, tavernas and bars serving an eclectic menu, and shops for essentials and souvenirs, our low cost Tingaki holidays will suit most tastes. Although Tingaki nightlife is fairly low key, reflecting the resort's popularity with families and couples, those who wish for a lively night out can take the short trip to Kos Town. With a variety of recreational activities and sightseeing opportunities, Tingaki holidays are never dull.
For further details, and to find our latest Tingaki holiday offers, please use the search facility.