Larnaca Holidays
Larnaca Holiday Deals
Sorry, we have no offers to display for this destination.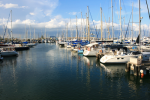 Larnaca holidays provide a special blend of the old and the new on the beautiful Mediterranean island of Cyprus. With twenty five kilometres of soft sandy beaches, crystal seas, water sports, superb restaurants and a lively nightlife, holidays to Larnaca attract a wide variety of people. Larnaca, as well as being a region, is the oldest town on the island and its historic quarter offers an insight into its rich and colourful heritage.
Cheap Larnaca Holidays
Holidays in Larnaca offer a mix of both Greek and Turkish culture which is evident in the cuisine as well as the architecture. If you're seeking a relaxing break on sandy beaches with a guarantee of summer sun, look no further than our bargain Larnaca holidays. You will be surprised at our great selection of low cost Larnaca holidays which could soon have you wandering palm lined promenades, bathing in tepid seas and enjoying refreshments in the local taverna.
Search now to view our last minute Larnaca holidays.