Nicosia Holidays
Nicosia Holiday Deals
Sorry, we have no offers to display for this destination.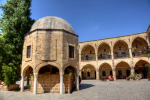 Nicosia holidays take you to the capital of the divided island of Cyprus. The city itself is split with the north belonging to the Turks and the south belonging to the Greeks. Holidays to Nicosia can be taken from April until October with temperatures rising to the low thirties at the height of the season. Nicosia is a modern, vibrant city with a delightful walled old town at its heart. Holidays in Nicosia appeal mainly to couples who enjoy city life. Since the island is small, you are never far from the beach and relaxing days by the sea are easy to achieve.
Cheap Holidays To Nicosia
We have a number of cheap Nicosia holidays which may tempt those looking for a guarantee of summer sun on this interesting and beautiful island. The historic centre is a maze of narrow, traffic-free streets, filled with shops, stalls, bars and cafes, as well as wonderful architecture. With a good range of accommodation and restaurants catering for even the most conservative of palates, our low cost Nicosia holidays are sure to please. Shopping here is excellent and there is nightlife to suit all moods, from romantic to party, with venues where you can dance through the night. If you wish to intersperse your explorations of the city with days on a sandy beach, you are never more than twenty miles from the coast. Since our bargain Nicosia holidays disappear like hot cakes, it is best to book early in order to avoid disappointment.
For further details and to view our best Nicosia holiday offers, please use the search facility.