Mykonos Town Holidays
Mykonos Town Holiday Deals
Sorry, we have no offers to display for this destination.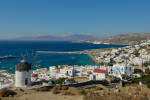 Mykonos Town which rises up the hill from the harbour is one of the prettiest towns in the Greek islands and is easily recognised by its four white windmills that dominate the skyline. Mykonos Town holidays can be taken from April to October when the temperature rises from twenty to low thirties at the height of the season. This is an upmarket town with some of the best restaurants and most exclusive boutiques on the island and its nightlife is very lively. Holidays to Mykonos Town are very popular with young singles drawn by its fun-loving reputation. It is also a popular wedding venue as it provides such a beautiful and romantic setting.
Cheap Holidays To Mykonos Town
We have a number of cheap Mykonos Town holidays which offer excellent value. Being close to sandy beaches offering good bathing and a variety of water sports Mykonos Town holidays can be as active or as relaxed as you wish. If you are seeking a guarantee of summer sun in a picturesque resort, our low cost Mykonos Town holidays may fit the bill.
For further information and to discover our latest Mykonos Town holiday offers, please use the search facility.