Ornos Holidays
Ornos Holiday Deals
Sorry, we have no offers to display for this destination.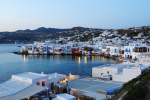 Ornos holidays take you to the south west of Mykonos just three kilometres from Mykonos Town. Located in a deep, sheltered bay with a gently sloping beach, holidays in Ornos are very popular with families. The warm, crystal waters offer safe bathing for children and less confident swimmers. Holidays to Ornas can be taken from April until October when the temperature rises from twenty to low thirties at the height of the season. There is plenty of activity in the bay with the comings and goings of fishing vessels, yachts and pleasure boats. Water sports are also available.
Cheap Holidays To Ornos
If you are seeking a family friendly resort with a guarantee of summer sun, you may be interested in our cheap Ornos holidays. These offer great value as our commitment to high standards are never compromised. With good accommodation and numerous restaurants, tavernas and bars catering for every taste, our Ornos holiday deals are sure to please. Although nightlife here is fairly low key,� Mykonos which is just around the corner, provides livelier evenings.
For further information and to view our latest Ornos holiday offers, please use the search facility.