Walt Disney World Resort Holidays
Walt Disney World Resort Holiday Deals
Sorry, we have no offers to display for this destination.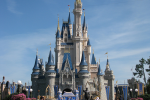 Walt Disney World Resort lies twenty miles southwest of Florida's bustling Orlando city. It is by far the largest holiday centre in the world with four theme parks, two water parks and over thirty resorts and hotels within the Disney boundaries. Holidays in Walt Disney World Resort have accommodation to suit every budget from camp sites through to five star luxury hotels. These include twenty three themed hotels which are very popular with families.
Cheap Holidays To Walt Disney World Resort
We have a range of cheap Walt Disney World Resort holidays ready to whisk you away for an experience of a life time. If you are looking for thrills on hair-raising rides, safari trips in the Animal Kingdom, excitement in the Hollywood studies or fishing in the resort's lakes book one of our low cost Walt Disney World Resort Holidays. While holidays to Walt Disney World provide hours of fun in theme parks and water parks, there are also four eighteen hole courses for golfers as well as a couple of themed mini-golf complexes. With all of this and shops and restaurants galore, our bargain Walt Disney World Resort holidays keep the whole family happy.
Search now to find our last minute Walt Disney World Resort holidays.