Aguilas Holidays
Aguilas Holiday Deals
Sorry, we have no offers to display for this destination.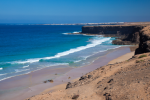 Aguilas holidays take you to Spain's Costa Calida, forty miles south of Murcia. It is a large city with a history that dates back to Roman times. Holidays to Aguilas can be taken at any time of year as the summers are long and hot and the winters mild. April to October are the busiest months with temperatures rising from mid-twenties to the low thirties at the height of the season.
Cheap Holidays To Aquilas
With twenty miles of sandy beaches and sheltered coves, it is no surprise that our cheap Aguilas holidays are snapped up by families. There is good provision of water sports and golfers have a choice of courses in the area. Holidays in Aguilas suit those who wish to combine a little culture with lazy days on the beach. The old town has wonderful examples of architecture throughout the ages and guided tours are advised. Our low cost Aguilas holidays offer great value as our commitment to quality and service never wavers. With modern accommodation and numerous restaurants serving food to cater for all tastes, our bargain Aguilas holidays are sure to satisfy. If you are looking for respite from our uncertain, and often inclement weather, you may be tempted by the promise of sunshine with our Aguilas holiday offers.
For further information and to discover our last minute Aguilas holidays, please use the search facility.