Murcia Holidays
Murcia Holiday Deals
Sorry, we have no offers to display for this destination.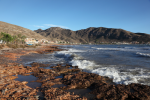 Murcia holidays take you to� a stunning city a short distance from Spain's sunny Costa Calida. Evidence of the town's troubled history is seen in the fortified walls and the castle built by the Moors. Holidays to Murcia can be taken at any time of year as the summers are long and hot and the winters mild. At the height of the summer season, temperatures can rise to the high thirties. Holidays in Murcia are popular with couples who wish to combine culture and sightseeing interspersed with relaxing days on Costa Calida's wonderful sandy beaches.
Cheap Holidays To Murcia
We have a surprising number of cheap Murcia holidays that offer great value as our commitment to quality and service never wavers. With good accommodation and restaurants catering for even the most conservative of palates, our low cost Murcia holidays are sure to please. There is much to see in the town and to make the most of your visit a guided tour is recommended. The awe-inspiring cathedral of Santa Maria must be at the top of your list, followed closely by the palace and castle, the galleries and museums and the parks and gardens. Shoppers will be delighted by the choice of boutiques and specialist stores. Murcia nightlife caters for every mood from party to romantic. Evenings can be spent strolling along the river banks and through the narrow streets of the old quarter. If you are looking for a break in a beautiful city, where the summer sun is guaranteed to shine, you may find our Murcia holiday offers tempting.
For further information and to view our beast Murcia holiday deals, please use the search facility.