Puerto Mazarron Holidays
Puerto Mazarron Holiday Deals
Sorry, we have no offers to display for this destination.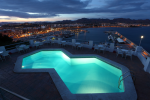 Puerto Mazarron holidays transport you to a pleasant resort on Spain's sunny Costa Calida. Holidays to Puerto Mazarron can be taken at any time of year as summers are long and hot and the winters mild. April to October are the busiest times with temperatures rising from mid-twenties to the low thirties at the height of the season.
Cheap Holidays To Puerto Mazarron
With a soft sandy beach offering safe conditions for children, it comes as no surprise that our cheap Puerto Mazarron holidays are snapped up by families. They offer exceptional value as our commitment to quality and service is never compromised. Holidays in Puerto Mazarron have wide appeal as the range of recreational pursuits is good. There are water sports for the more energetic visitor and the rugged rocks around the bay offer ideal conditions for scuba diving and snorkelling. Wether you wish to laze in the sun or participate in sporting activities both on land and sea, our low cost Puerto Mazarron holidays are sure to please. Restaurants cater for all tastes and nightlife for every mood, from party to romantic. There is adequate shopping but if more choice is needed,Cartagena is close by.
For further details and to discover our best Puerto Mazarron holiday deals, please use the search facility.