Arosa Holidays
Arosa Holiday Deals
Sorry, we have no offers to display for this destination.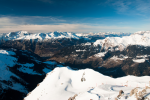 Arosa ski holidays take you to a popular resort high in the Swiss Alps. Surrounded by stunning scenery with lakes, wooded hills and jagged mountain peaks, ski holidays in Arosa have broad appeal, with the exception perhaps of expert skiers seeking a greater number of demanding runs. Ski holidays to Arosa can be taken from December to mid April, and there is usually good snow cover throughout the season. The summer months see an influx of hikers, climbers and mountain bikers. A free bus takes you to an efficient lift system which gives trouble-free access to the slopes.
Cheap Arosa Holidays
We have a selection of cheap Arosa ski holidays that are considered great value as our commitment to quality and service never wavers. With a good range of accommodation and restaurants catering for all tastes, our low cost Arosa ski holidays are sure to please. As this is a child-friendly resort, it comes as no surprise that our bargain Arosa ski holidays are snapped up by families. The resort is also a good choice for mixed groups as there are many activities for non-skiers, both during the day and after dark.
For further information and to find our best Arosa ski holiday offers, please use the search facility.
Arosa Introduction
Arosa is a Swiss resort, which at an altitude of well over five thousand feet, is one of the highest in Europe. Located at Lake Obersee at the top of the Schanfigg Valley, Arosa is surrounded by great natural beauty with pine-clad hills framed by rugged mountains. The resort has two main areas, the Ausserarosa and the Obersee Lakelet, and also the older village of Innerosa. While the accommodation away from the lake offers doorstep skiing, it is further away from the lifts but a free bus service is available. Ski schools provide tuition from the age of four and there are also creche facilities. Although there are pistes for all levels of expertise, the majority of them are suited to novice and intermediate skiers. Arosa ski holidays are a good choice for groups containing non-skiers as many alternative activities are available.
Why Go To Arosa
Arosa offers great conditions in an almost snow sure environment. Although not the prettiest development, it offers good amenities and excellent service. It is a great venue for non-skiers and though nightlife is low-key, there is plenty of entertainment.
When To Go To Arosa
The Arosa ski holiday season lasts from early December until mid April. Snow cover is generally good throughout this time. It is popular in the summer months with climbers, hikers and mountain bikers.
Who Is Arosa Popular With
With the exception of expert skiers, Arosa ski holidays have wide appeal. There are challenging off-piste runs for advanced skiers and there is also a park for boarders.
Arosa - The Place
Arosa ski holidays take you to a family friendly resort high in the Swiss Alps, where good snow cover is almost guaranteed. A free bus service is available to the lifts which are located by Lake Obersee. These give quick and easy access to the slopes which enjoy above average sunshine. The fifty miles of pistes are mostly suited to beginners and intermediate skiers and there is provision for boarders. In addition there are eighteen miles of cross country trails and forty miles of walking tracks. Ski schools provide tuition from the age of four and there are creche facilities. Hotels, apartments and chalets provide a range of high quality accommodation and the restaurants cater for most palates. Although Arosa has a number of lively venues, nightlife here is generally relaxed. A variety of leisure pursuits are offered. These include sledging and sleigh rides, skating both on the lake and in a rink, swimming, cinema, and for the more adventurous, ballooning and paragliding. Arosa ski holidays offer energetic days on sunny slopes amid spectacular scenery, followed by relaxed evenings.
Arosa Nightlife
Arosa nightlife is fairly subdued, reflecting the resort's popularity with couples and families. There is plenty to do in the evening with sleigh rides, skating, tobogganing, swimming and cinema.
Arosa Shopping
Arosa shopping provides for all your holiday essentials, including sporting equipment and clothing. There are also shops where you can purchase gifts and souvenirs.
Eating In Arosa
Arosa restaurants serve a variety of fare from traditional food to international cuisine and cater for most tastes.