Engelberg Holidays
We currently have no offers to display for Engelberg.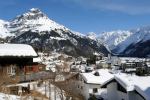 Engelberg ski holidays take you to a high altitude resort in the central Swiss Alps where snow is assured throughout the season. Ski holidays to Engelberg can be taken from the end of November until the beginning of May and during the summer months the village sees an influx of climbers, hill walkers, bikers and those who enjoy river sports. Ski holidays in Engelberg have wide appeal as the slopes cater for all levels of expertise in both skiing and boarding, and families are made very welcome. An efficient lift system gives access to the pistes and there are schools providing tuition from the age of three.
Cheap Engelberg Holidays
We have a surprising selection of cheap Engelberg ski holidays that are considered great value for money as our commitment to quality and service is never compromised. With comfortable accommodation and restaurants catering for most tastes, are low cost Engelberg ski holidays are sure to satisfy. The resort provides nightlife to suit every mood and taste. The village has a long history dating back to the eleven hundred when a monastery was founded there. Since there are many sightseeing opportunities, our bargain Engelberg ski holidays are perfect for groups containing non-skiers.
For further information and to discover our best Engelberg ski holiday deals, please use the search facility.
Engelberg Introduction
Engelberg is a charming resort high in the mountains of central Switzerland. The original village, clustered round a monastery founded in the twelfth century, has developed into a very pleasant, family friendly ski resort which offers sixty miles of pistes. Lifts give relatively easy access to the slopes which, together with off-piste runs, cater for all levels of ability in both skiing and boarding. Schools offer tuition from the age of three and guides for experts wishing to ski off-piste. There is accommodation to suit all budgets, restaurants to satisfy most tastes, adequate shopping, and nightlife to suit all moods. The village is popular in summer with walkers, climbers and mountain bikers. There is also summer skiing on the glacier. Engelberg ski holidays are ideal for those looking for uncrowded slopes and a traditional alpine atmosphere.
Why Go To Engelberg
Engelberg ski holidays offer great skiing in an area that almost guarantees snow cover throughout the season. Apart from satisfying downhill skiers and boarders, there are cross country trails through stunning countryside. Families are drawn to the resort as there are many child-centred activities.
When To Go To Engelberg
The Engelberg ski holiday season lasts from the end of November to the beginning of May. Snow cover is generally good throughout this time. The summer months bring an influx of visitors who enjoy climbing, hill walking and mountain biking.
Who Is Engelberg Popular With
Engelberg ski holidays are popular with all skiers regardless of ability. They attract families and couples of all ages. This historic town an ideal choice for mixed groups with non-skiers as there is much to see and do.
Engelberg - The Place
Engelberg is an historic town in central Switzerland, a particularly beautiful part of the country. At an altitude of over six thousand feet, Engelbert ski holidays promise snow sure days throughout the long season. The sixty miles of pistes are accessed by a lift system and there are shuttle buses to the lift station. There are slopes to suit all levels of ability and a snow park for boarders. Experts enjoy the eight mile run from the Titlis glacier down to the resort. The Brunni area is ideal for families, novices and improvers. There are cross country trails through stunning countryside. Schools provide tuition from the age of three, and also guides for those advanced skiers who wish to ski off-piste. Hotels, apartments and chalets offer a good range of accommodation that caters for all budgets.
Engelberg Nightlife
Engelberg nightlife has something for every mood, from romantic to party. There are fine restaurants where you can enjoy an intimate meal as well as lively bars for those seeking a lively end to the day. A number of sporting activities are available during the evening.
Engelberg Shopping
As a large village, Engelberg has a fair number of shops and provides adequately for all your holiday needs.
Eating In Engelberg
Engelberg has some excellent restaurants serving a diverse cuisine from traditional Swiss dishes to international fare. There are also cheaper options where fast food is available.