Costa De Antigua Holidays
Costa De Antigua Holiday Deals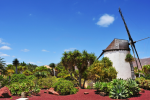 Costa de Antigua holidays offer peace and relaxation in an attractive resort. Lying on the east coast of Fuerteventura, very close to Caleta de la Fuste, visitors can benefit from its recreational facilities. With a small white sandy beach, holidays in Costa de Antigua are very popular with families with young children. Being close to a golf course, the resort also attracts golfers.
Cheap Holidays To Costa De Antigua
Holidays to Costa de Antigua can be taken at any time of year as the winters are mild and the summers pleasantly hot. If you are seeking a break with a guarantee of sun and good accommodation, in a quiet, friendly resort, you may be interested in one of our cheap Costa de Antigua holidays. Visitors to this purpose built resort are offered a variety of leisure pursuits including water sports, golf and coastal walks. Hire a four by four and explore charming inland villages, the Jandia National Park, or climb to the top of Pico de Zarza. At 807 metres it is the highest point on the island and the stunning views makes the effort worthwhile. If you have had enough of inclement weather, take a look at our Costa de Antigua holiday bargains and you could soon be on your way to the Canaries.
For further information and to find our latest Costa de Antigua holiday offers, please use the search facility.