Jandia Holidays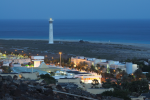 Holidays to Jandia take you to the south east coast� of Fuerteventura, just thirty minutes from the airport. This area has some of the best beaches on the island with soft white sandy beaches washed by clear blue seas. Conditions here are perfect for water sports, particularly surfing.
Cheap Holidays To Jandia
Jandia holidays can be taken at any time of year as Fuerteventura enjoys both mild winters and pleasantly hot summers. Holidays in Jandia appeal to families with young children, couples of all ages, water sports enthusiasts and golfers. With good accommodation, a wide choice of restaurants and a number of lively bars, our cheap Jandia holidays are considered to be excellent value. So if you are looking for winter sun, an early spring break, or a guarantee of summer sunshine, you may be tempted by our Jandia holiday bargains.
For further information and to find our latest Jandia holiday offers, please use the search facility.