Costa Teguise Holidays
Costa Teguise Holiday Deals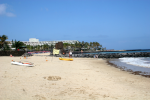 Costa Teguise holidays take you to the east coast of the wonderful island of Lanzarote with its rugged volcanic landscape. This purpose built resort is close to the airport so transfers are short.
It is a resort with wide appeal with families, couples young and not so young, as well as groups of young singles.
The beach is great for tots with buckets and spades and water sports enthusiasts will be pleased with the variety of sports on offer. The constant breeze makes it ideal for wind surfing.
Year round sunshine.
With low cost airlines flying to the island from many regional airports, travel to Lanzarote has never been cheaper. Cheap Costa Teguise holidays can be enjoyed at any time of year. This subtropical island has an enviable climate where there are no extremes of temperature.
Summers are pleasantly hot and winters pleasantly mild.
If you want to escape from the gloomy, cold and damp days of winter, choose a Canary Island holiday which offers sunshine without the need for a long haul flight.
Holidays for all budgets.
Standards of accommodation and service are good. Many of the older apartments have been renovated to high specifications, providing all modern conveniences and high levels of comfort. Restaurants, bistros and tapas bars serve food that caters for all tastes. There are even British and Irish pubs for those who want their Sunday roast or their full English breakfast. There is ample opportunity for shopping including the Sunday market in Teguise where the whole population of the island seems to congregate. There is nightlife to suit all moods from romantic to party.
Costa Teguise benefits from its proximity to the islands main tourist attractions which include a water park and a golf course. A visit to the Timanfaya national Park is a must. Its unique landscape, with craters and lava flows is very impressive.
Search today.
If you find a cheap Costa Teguise holiday appealing and you wish to avoid the tiresome task of trawling through web page after web page trying to find the best deal, try our simple search facility. You'll find over three dozen travel companies competing for your custom. It is simple to use and remember, competition brings out the best bargains.
Our search facility enables you to see, at a glance, the Costa Teguise holiday that is the cheapest and the one that offers the best value for money.�
All you have to do to secure the holiday is make a phone call. To book the best deal, and to avoid disappointment,� ring today.