Holidays to Lanzarote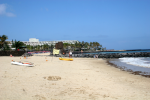 Browse through our Lanzarote holidays and discover this stunning island where the lunar-like landscape contrasts sharply with the forested National Parks amidst sparkling turquoise tides.
With year-round sunshine, a trip to the island can be taken at any time of year, so it's a great destination for those wishing to avoid the uncertainty of our British summers and the dreariness of our winters.
Whether it's lounging on the black-sand beaches or trying out a new water sport, the island has something on offer for everyone. Excursions to the Timanfaya National Park are also a great way of exploring Lanzarote's varied landscape, as are the spectacular Los Verde Caves, leisure parks and golf courses.
Another major attraction of the Canary Islands is its tax-free status, and our deals will leave you with plenty of euros in your pocket to indulge in a little retail therapy.
Browse our holidays to Lanzarote using our search facility, and plan your break in the Canaries today.