Playa De Los Pocilos Holidays
Playa De Los Pocilos Holiday Deals
Sorry, we have no offers to display for this destination.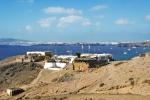 Playa de los Pocillos holidays offer the most modern accommodation and amenities on the island. Located on the east coast of Lanzarote, this purpose built resort has all the ingredients necessary for a stress free break in delightful surroundings. Holidays to Playa de los Pocillos are popular with families, water sports enthusiasts and couples of all ages. The breeze across the bay tempers the summer heat and gives ideal conditions for wind surfing and sailing.
Cheap Playa De Los Pocillos Holidays
With hot summers and pleasantly warm winters holidays in Playa de los Pocillos can be taken at any time of year. So if you are looking for relaxation in pleasing surrounding, where the atmosphere is warm and friendly and the evenings are mellow, browse through our selection of cheap Playa de los Pocillos holidays and you'll be surprised by the choice. With lots of tourist attractions in the vicinity, our low cost Playa de los Pocillos holidays will keep you entertained.
Search now to find our last minute Playa de los Pocillos holidays.