Kamari Holidays
Kamari Holiday Deals
Sorry, we have no offers to display for this destination.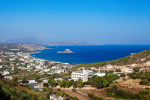 Kamari holidays take you to the south east coast of Santorini, twelve kilometres from the principle town of Fira. The resort is fairly modern as the village was completely destroyed by an earthquake in 1956. Holidays to Kamari can be taken from April until October with temperatures rising to thirty degrees in peak season. The village is framed by rather arid hills and spreads along a volcanic shore, which is less than ideal for the building of sand castles. Nevertheless holidays in Kamari have wide appeal as it offers a pleasant place to relax in a guarantee of summer sun.
Cheap holidays to Kamari
Our cheap Kamari holidays disappear like hot cakes so book early to avoid disappointment. A variety of hotels and apartments accommodate most tastes. Traditional tavernas serve delicious island food and restaurants also provide international cuisine including typical British fare for those with a conservative palate. If you are looking for a friendly resort with good amenities our low cost Kamari holidays may be of interest. There are the usual numbers of gift and souvenir shops as well as a street market. Evenings are spent dining beneath the stars listening to the waves gently lapping the beach. There are also some livelier venues with music and dance. For a guarantee of summer sun, surf through our Kamari holiday offers and you may find on to suit.
For further details and to discover our latest Kamari holiday deals, please use the search facility.