Oia Holidays
Oia Holiday Deals
Sorry, we have no offers to display for this destination.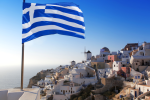 Oia holidays transport you to what is considered to be the prettiest town in Santorini. Although there was devastation in 1956 when an earthquake hit the town, many old buildings and churches remain. Those that were rebuilt continue the tradition of white and ochre houses with blue doors and shutters. The blue domes of the churches contrast sharply with the white walls. Holidays to Oia can be taken from April until October with temperatures rising to thirty at peak season. Sitting on the rim of the now extinct volcano and looking over the water filled caldera, the views from the town are stunning. Visitors from all over the island come to Oia for the sole purpose of watching the sun drop into the sea. It is a truly spectacular sight when the brilliance of the town bathed in sunlight, changes into warm hues of pink and orange. Oia holidays are popular with couples looking for peaceful days and romantic evenings as nightlife here is very subdued.
Cheap holidays to Oia
Check out our cheap Oia holidays which are great value, and you could soon be winging your way to this delightful location. If you are seeking a break from the stresses of twenty-first century living, our low cost Oia holidays may be the answer.
For further information and to view our latest Oia holiday deals, please use the search facility.