Santorini Holidays
Santorini Holiday Deals
Sorry, we have no offers to display for this destination.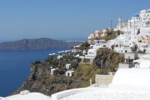 Santorini is one of the most romantic Greek islands. Lying in the Aegean Sea, this volcanic island, although devoid of lush green vegetation, is nevertheless very pretty. Its whitewashed houses with blue paintwork and the blue-domed churches contrast starkly with the arid countryside.
Relaxing holidays in Santorini.
The islanders, almost without exception, surround their doors and windows with flowering creepers and pot plants, adding vibrant colours to the scene. With a guarantee of sunshine throughout the summer months, high standards of accommodation and delicious food, cheap Santorini holidays are in great demand.
Although Santorini does have beaches, the majority are pebbly with volcanic material. The few sandy beaches are dark and coarse, so if you have young children who are into building sand castles, it's probably best to look elsewhere. Whether you are seeking complete relaxation, or wish to fill your days with recreational activities and excursions, you'll find a cheap Santorini holiday that fulfils your requirements.
Cheap Santorini Holidays.
Those for whom shopping is an essential holiday activity, will find the streets of Fira are filled with every kind of shop, where every day appears to be market day.The relaxed atmosphere of the island and its romantic reputation has resulted in Santorini becoming a popular wedding and honeymoon venue.
If a Santorini holiday appeals and you wish to avoid the tiresome task of trawling through umpteen web pages trying to find the best deal, use our search facility which has almost three dozen travel companies competing for your custom. You'll find it is simple to use and remember, competition brings out the best bargains. Our search facility enables you to see, at a glance, the Santorini holiday that is the cheapest and the one that offers the best value for money.� All you have to do to secure the holiday is make a phone call. To book the best deal, don't delay, ring today.