Konia Holidays
Konia Holiday Deals
Sorry, we have no offers to display for this destination.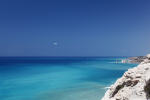 Konia holidays take you to a pretty village very close to Paphos on the south west coast of Cyprus. Holidays to Konia can be taken from April to October with temperatures rising to the low thirties at the height of the season.
Cheap Holidays To Konia
With a choice of sandy beaches, it is unsurprising that our cheap Konia holidays are snapped up by families. This popular resort has wide appeal for although it has a relaxed atmosphere with a low-key nightlife, it lies close enough to Paphos to share its many facilities. Holidays in Konia can be as relaxed or as active as you wish as there is much to see and do. A variety of leisure pursuits are available on both land and on, or in, the water. Golfers have no less than three eighteen hole courses from which to choose. The historic town of Pathos and the surrounding area, offer many sightseeing opportunities. If you are looking for a guarantee of summer sun in a family friendly resort, you may be interested in our low cost Konia Holidays. Here you can enjoy the best of both worlds with peace and tranquility by day, and lively venues in Paphos at night.
For further details and to view our best Konia holiday deals, please use the search facility.