Platres Holidays
Platres Holiday Deals
Sorry, we have no offers to display for this destination.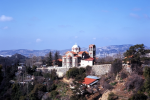 Platres holidays take you to a Cypriot town in the Troodos mountains. Located at a height of over three thousand feet, visitors enjoy stunning panoramic views. Holidays to Platres can be taken at any time of year as the long hot summers are followed by a snowy skiing season. At the height of summer, when temperatures at the coast are in the mid-thirties, the wooded hills and the resort's elevation give respite from the heat. Holidays in Platres are popular with ramblers and hill walkers in summer and skiers in winter. It also appeals to those who want a relaxing break in a traditional small town away from the busy seaside resorts.
Cheap Holidays To Platres
We have a number of cheap Platres holidays which offer great value as our commitment to quality and service is never compromised by price. With good accommodation and superb restaurants, our low cost Platres holidays are sure to please. Those who wish to combine their mountain break with days on soft sandy beaches, can reach the south west coast of the island in half an hour. To make the most of your stay, car hire is recommended. Shopping in the resort, though limited, is adequate, supplying all your holiday needs. Nightlife is relaxed reflecting the resort's popularity with couples. Since our Platres holiday offers disappear like hotcakes, book early in order to avoid disappointment.
For further information and to view our best Platres holiday deals, please use the search facility.