Alikanas Holidays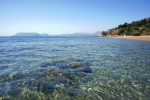 Alikanes holidays take you to the beautiful island of Zante which lies in the Ionian Sea off the west coast of mainland Greece. The resort is thirteen miles from the principle town of the same name.
A peaceful resort on the north east coast, Alikanes boasts a wonderful sandy beach washed by the clearest of waters.
Cheap Alikanes Holidays.
If your idea of holiday bliss is to relax in warm sunshine by the sea, you've chosen the right spot. The resort is very popular with families and couples of all ages. The more energetic holidaymaker has a choice of water sports. There is much to see on the island and top of everyone's list is an excursion to Smuggler's Cove, instantly recognisable, it is one of the most photographed scenes in the whole of Greece. Best viewed from the sea, it is a haunting image of a wrecked ship lying half buried in the sand.
Cheap Alikanes holidays disappear like hot cakes. With an excellent range of accommodation, there are hotels and apartments to suit all budgets. Restaurants and tavernas cater for even the most pernickety of palates and they satisfy those seeking a little home from home, with Sunday roasts and full English breakfasts. There are also fast food outlets. Local food and wines are both delicious and inexpensive. Alikanes shopping is fairly limited but if you take a bus to Zante Town you'll find plenty of retail opportunities. Nightlife in the resort can only be described as low-key, reflecting� Alikanes's popularity with families.
Where can you fly from?
With many regional airports flying direct to the island and with a flight time of a little over three hours followed by short transfers, travelling to Zante has never been easier.
Book an early flight and you could be unpacked and on the beach at Alikanes by lunchtime.
If� you decide to travel to Alikanes but find the thought of trawling through web page after web page, looking for the best deal, more than a little off-putting, try our simple search facility. You'll discover over three dozen travel companies, including leading brands, competing for your custom. It is simple to use, and remember, competition brings out the best bargains. Our search facility enables you to see, at a glance, the Alikanes holiday that is the cheapest, and the one that offers the best value for money. It couldn't be easier. All you have to do to secure the holiday is make a phone call. As offers change daily, in order to avoid disappointment, you should ring today.