Tsilivi Holidays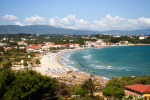 Tsilivi holidays transport you to the north east coast of Zante just four miles from the island's principle town. It is a pleasant resort with a good sandy beach and warm clear waters. Holidays to Tsilivi can be taken from April until October with temperatures rising to thirty at the height of the season.
Cheap Holidays To Tsilivi
With soft sand and safe, shallow waters, it is unsurprising that our cheap Tsilivi holidays are snapped up by families. The resort is also popular with couples of all ages. With a variety of recreational activities and sightseeing opportunities, our low cost Tsilivi holidays can be as relaxed or as active as you wish. Shopping here is good, nightlife is lively and restaurants cater for all tastes. If you are seeking a guarantee of summer sun in a friendly resort with a wonderful beach, take a look at our bargain Tsilivi holidays and you could soon be on your way. Since they offer such good value, our Tsilivi holiday offers disappear like hot cakes. Avoid disappointment by booking without delay.
For further information and to find our latest Tsilivi holiday deals, please use the search facility.