Zante Holidays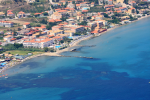 Zante truly is the most diverse holiday destination. Whether you want to party the night away with a bunch of friends or relax on the miles of golden sandy beaches with the scenic backdrop of impressive mountains and rugged cliffs, then Zante is the place for you! Take a look now at our low cost offers to Zankythos and transport yourself to these stunning surroundings in no time at all!
Why choose Zante?
Although a small island, Zante is certainly not lacking in things to do. If you're after a party holiday experience which will provide you and your friends with endless memories that you won't forget in a hurry then look no further than Laganas! This is one of the best and biggest party places around with a nightlife strip to rival Las Vegas Laganas regularly attracts a young and lively party crowd, so if that sounds up your street then take a browse through our cheap holidays to Zante and get your dancing shoes on!
After a more traditional holiday in Zante?
If you're after a more authentic holiday experience, the southern peninsular offers an array of much quieter resorts. It is here where you can fully indulge yourself in the traditional character of Greece. Picturesque villages, whitewashed houses and taverns that will cater for your every food desire what more could you want? So don't let a holiday of a lifetime slip through your fingers! Take a look at our cheap holidays to Zante now.
The perfect place to stay?
Just 15km from Zante airport is Alykanas, a peaceful yet charismatic seaside village, which may be the perfect place to stay if you and your family fancy a more relaxed holiday experience. Situated in the north-east of Zante, Alykanas is steeped in centuries of culture and history, just waiting to be discovered and explored. Enjoy this scenic village, with its ancient vineyards and luscious olive groves and watch all your troubles float away while relaxing on its quiet and quaint beach.
Must sees in Zante
If there is one thing that must be ticked off your list of places to visit in Zante, it is Smugglers Cove! This idyllic paradise regularly graces the front of many Zante postcards and it's easy to see why golden sands framed by enchanting white cliffs and the opportunity to relax and appreciate the beauty of the captivating coastline. Not only is Smugglers Cove the ideal sunbathing location with views you can only dream about, but you will also be treated to an exciting snippet of the past with the Cove being home to the ancient ruins of a supposed shipwrecked smuggler ship!
Fantastic Food
If the sun, sea and sand as well as the array of cultural gems are not enough to attract you to Zante, then perhaps the fabulous food will satisfy your appetite. Experience traditional Greek food such as their mouth-watering fresh fish or Moussaka, made from lamb and aubergines, a favourite amongst the Grecians.
Does Zante seem like a holiday destination that you would consider? If so, search now to find our latest holiday offers to this alluring island!