Kypseli Holidays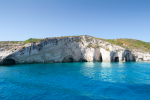 Kypseli holidays take you to the north-eastern coast of Zante, eight miles from the island's principle town. It is a quiet and relaxed resort, ideal for those seeking a retreat from busy lives. Holidays to Kypseli can be taken from April to October with temperatures rising to a comfortable thirty at the height of the season. The resort lies a short distance from the coast and because of this, it appeals mainly to couples. Although it is within walking distance and there is a regular bus to the sandy beaches, families with young children usually prefer their base to be closer to the sea.
Cheap Holidays To Kypseli
We have a number of cheap Kypseli holidays that may tempt those looking for a guarantee of summer sun in a charming traditional village. There are many interesting inland trails for those who enjoy walking, and Zante Town, where shopping is good, is quickly reached by bus. Our low cost Kypseli holidays disappear like hotcakes so if you want to make this delightful village your base, you need to book early. With good accommodation and restaurants, they offer great value as our commitment to quality and service is never in doubt.
For further information, and to view our last minute Kypseli holiday deals, please use the search facility.