Bahia Feliz Holidays
Bahia Feliz Holiday Deals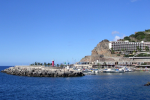 Bahia Feliz is a charming purpose-built resort on Gran Canaria's south coast. Bahia Feliz holidays offer lazy days on the beach and a variety of recreational activities. Holidays to Bahia Feliz can be taken at any time of year as the Canaries enjoy pleasantly hot summers and warm winters.
Cheap Bahia Feliz Holidays
We have a surprising number of cheap Bahia Feliz holiday ready to whisk you away from dreary winter winters or uncertain summers. Our low cost Bahia Feliz holidays are considered very good value as the standard of accommodation and service remain high. Holidays in Bahia Feliz are popular with water sports enthusiasts as the breezy beach is ideal for surfing. Golfers have an eighteen hole course near the sand dunes beyond Maspolomas.The steeply shelving beach with fairly heavy seas is unsuitable for children and weak swimmers. The south of Gran Canaria has many attractions including Aqualand and Holiday World, a theme park much enjoyed by adults and children alike. Use the search to find our best Bahia Feliz deals and leave the dismal days of winter behind.