Salobre Golf Holidays
Salobre Golf Holiday Deals
Sorry, we have no offers to display for this destination.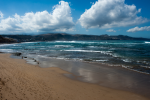 Salobre Golf is situated five kilometres from Maspalomas on Gran Canaria's sunny south coast. The near perfect climate of the island gives wonderful conditions for golf at any time of year. Salobre Golf holidays offer a fair degree of luxury with first class accommodation and gourmet cuisine. Holidays to Salobre Golf are not only popular with the golfing fraternity as the resort has swimming pools, spas, fitness rooms and tennis courts. Being close to the beaches, visitors can combine coastal activities with days on the green.
Cheap Holidays To Salobre Golf
Holidays in Salobre Golf offer stunning panoramic views towards the sea. There are opportunities for horse riding and walking in the hills. Inland Gran Canaria is well worth exploring with its stunning scenery and charming old villages. Jeep safaris to Mount Tejeda are an ideal way to explore the island. If you are seeking a little luxury and fancy a few rounds of golf, you may be tempted by our cheap Salobre Golf holidays.
For further information, and to view our latest Salobre Golf holiday offers, please use the search facility.