Meloneras Holidays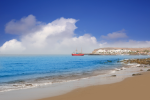 Meloneras holidays have a touch of luxury. This upmarket resort close to Maspalomas and Playa del Ingles on the southern coast of Gran Canaria, is a very attractive, modern resort providing high quality amenities. Holidays in Meloneras offer sandy beaches, warm crystal waters, water sports, golfing and a host of recreational activities and sightseeing opportunities. The resort appeals to families, couples of all ages and golfers.
Cheap Holidays To Meloneras
Holidays to Meloneras can be taken at any time of year as the island enjoys pleasantly hot summers and warm winters. Being close to the famed sand dunes of Maspolomas is an advantage, as it is always possible to find your own little spot offering a degree of privacy. You may be surprised to learn that even in this delightful resort, we have a number of cheap Meloneras holidays. If you are ready to leave our inclement weather behind and fancy a little pampering, check out our Meloneras holiday bargains.
For further information and to discover our latest Meloneras holiday offers, please use the search facility.