Bangkok Holidays
Bangkok Holiday Deals
Sorry, we have no offers to display for this destination.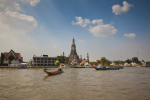 Bangkok holidays take you to the most visited destination in South East Asia.
The cultural and political capital of Thailand, Bangkok is a bustling city, where traditional charm sits alongside ultramodern edifices. With a population of ten million, it is a vast city. Its modern infrastructure, with both an underground and a sky train, makes it easier for holidaymakers avoid the heavy traffic congestion while visiting the many tourist attractions.
The city has been called the Venice of the East as the River Chao Phraya winds through the city and is connected to a large network of canals. A pleasant way to explore Bangkok is to take a river taxi or to book a canal cruise. If you fancy the latter, book one in the evening when the illuminated buildings and shrines are particularly impressive. Thailand has a long Buddhist tradition and the city has over four hundred temples, the most famous is possibly the Temple of the Emerald Buddha. The Grand Palace on Rattanakosin Island should not be missed. With so many museums and art galleries, temples and palaces, you will need to prioritise your sightseeing. Other attractions that children may enjoy are the Butterfly Farm and the Dusit Zoo. As it is a large zoo, there is a mini-train to help you make the most of your visit.
When is the best time to travel?
While cheap Bangkok holidays can be taken at any time of year, those who dislike high humidity should avoid the monsoon season which lasts from June to September. The city offers good quality accommodation and exceptionally high standards of service. Thai cuisine is renowned the world over. Be adventurous and you'll find it isn't all about rice and noodles. Bangkok nightlife is world famous and it seems that it caters for every appetite. Take care!
A shoppers paradise.
If shopping is your passion, a cheap Bangkok holiday will fulfil your wildest dreams. You can of course visit the large city malls, but most visitors flock to the huge markets where you can find just about everything from fine silks to fake designer watches. Just remember, you have a finite luggage allowance and overweight suitcases can cost you an arm and a leg.
If you feel the allure of this exotic city hard to resist, and would like a cheap Bangkok holiday but can't face the arduous task of trawling through web page after web page trying to find the best deal, try our simple search facility.
You'll find over three dozen travel companies, including leading brands, competing for your custom.
It is simple to use and remember, competition brings out the best bargains. Our search facility enables you to see, at a glance, the Bangkok holiday that is the cheapest, and the one that offers the best value for money. All you have to do to secure the holiday is make a phone call. As offers change daily, in order to avoid disappointment, you should ring today.