Phuket Holidays
Phuket Holiday Deals
Sorry, we have no offers to display for this destination.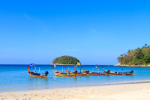 Phuket holidays take you to Thailand's largest and most popular island.
A beautiful island with forests and parks and� idyllic beaches, it attracts visitors from all generations. Young and not so young, families and eighteen to thirties, all flock to the island to enjoy its wonderful climate and its fabulous beaches. Phuket has become a popular wedding venue. Remember you must be resident for five days before you can marry.
When is best to travel?
Although never less than hot, the main holiday period avoids the monsoon season which lasts from May to September. However if you don't mind high humidity, and bear in mind you'll still have several hours of sunshine each day, you can secure the best Phuket holiday bargains at this time. The low season is the best time for surfers with Kata and Kamala beaches being the best for that particular sport.
Whether you wish to relax on sun-bleached beaches, occasionally refreshing yourself with a dip in the clear and warm Andaman Sea, of if water sports, golf or jungle treks are your thing, you'll find that cheap Phuket holidays can keep everyone happy. The Splash Jungle Waterpark, has thrills for both children and adults. The death defying Free Fall is however, not for the faint-hearted.
Cheap Phuket Holidays.
Even with cheap Phuket holidays you can find first rate accommodation and with service for which Thailand is famed, you can be assured that your holiday will be trouble free. Although a wide variety of international cuisine is available, do be adventurous and try Thai food. The range of spiciness is great so you are sure to find dishes that cater for your palate. There is nightlife to suit all, from venues that party through the night, to hideaways providing a romantic evening for two. Shopping, as always in Thailand, has opportunities in abundance with regular markets in most resorts.
If you feel the allure of this exotic island difficult to resist, and would like a cheap Phuket holiday but can't face the arduous task of trawling through web page after web page trying to find the best deal, try our simple search facility.
You'll find over three dozen travel companies, including leading brands, competing for your custom. It is simple to use and remember, competition brings out the best bargains. Our search facility enables you to see, at a glance, the Phuket holiday that is the cheapest, and the one that offers the best value for money. All you have to do to secure the holiday is make a phone call. As offers change daily, in order to avoid disappointment, you should ring today.