Gangou Beach Holidays
Gangou Beach Holiday Deals
Sorry, we have no offers to display for this destination.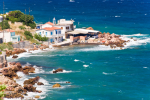 Gangou Beach holidays take you to the pretty north east coast of Samos only two kilometres from Samos Town. This quiet resort is sheltered by wooded hills and has a long gravel beach. Holidays to Gangou Beach can be taken from April until October with temperatures rising to the low thirties at the height of the season. Holidays in Gangou Beach are popular with those seeking a relaxing base but wish to be in easy reach of the principle town and its amenities. Our cheap Gangou beach holidays are considered superb value as the quality of accommodation and service remains undiminished. The resort has limited shopping and a very low-key nightlife. This matters little as those who wish can stroll along to Samos Town and fulfil their retail, as well as their evening entertainment, needs. Restaurants and tavernas serve a diverse cuisine and if more choice is needed, the proximity of the capital will provide.
Cheap holidays to Gangou Beach
If you wish to escape to sunnier climes with reliable weather and plenty to occupy your days, take a look through our low cost Gangou Beach holidays and you could soon be on your way.
For our latest Gangou Beach holiday offers, please use the search facility.