Karlovassi Holidays
Karlovassi Holiday Deals
Sorry, we have no offers to display for this destination.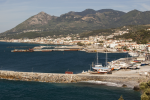 Karlovassi holidays transport you to the stunning northern coast of Samos, thirty kilometres from Samos Town. It is a large vibrant resort with a charming old town, a new town and harbour and bay areas. Holidays to Karlovassi can be taken from April until the end of October with temperatures rising to low thirties in peak season. Samos is a verdant isle and the resort is surrounded by fertile hills covered in pines, olive groves and vineyards. The beach, comprised of pebbles and sand, is lapped by the clearest of waters offering safe conditions for less confident swimmers. A variety of water sports are available from the shore. Holidays in Karlovassi have wide popularity as there is much to occupy visitors with a range of leisure pursuits and sightseeing opportunities.
Cheap holidays to Karlovassi
You may be interested in our cheap Karlovassi holidays that offer excellent value as we maintain a high standard of service at all times. Tavernas and restaurants offer a diverse cuisine serving both traditional island fare and international cuisine; a plethora of retailers satisfies even the most avaricious of shoppers; bars and discos provide a lively nightlife. If you are looking for a guarantee of summer sun on a beautiful Greek island, take a look at our Karlovassi holiday offers and you are sure to find one to suit.
For further information and to discover our latest Karlovassi holiday deals, please use the search facility.