Samos Holidays
Samos Holiday Deals
Sorry, we have no offers to display for this destination.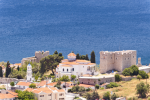 Samos holidays take you to a pretty, Greek island very close to Turkey in the southern Aegean Sea.Its landscape is varied with mountains and verdant hills covered with pine forests, leading down to olive groves and succulent vines.
Traditional Greece with a holiday in Samos.
With ancient monuments and ruins, medieval churches, and a stunning principle town in the north; with traditional fishing villages and inland hamlets where the pace of life is slow; Samos is crying out to be explored.
Accommodation of all classes reaches high levels of comfort and service. Restaurants cater for all tastes. If you are new to Greek food, try ordering meze, the equivalent of Spanish tapas. You'll be served a variety of tasty morsels giving you a flavour of local cuisine. Samos Town offers a good shopping experience and it is here that you'll find the liveliest nightlife. It has to be said that Samos is not noted for its exuberant evening entertainment.
Relax in the Greek Sun.
Cheap Samos holidays the perfect choice for those seeking a guarantee of hot summers with long hours of sunshine, warm seas and sandy beaches, and a place to enjoy total relaxation. The larger resorts offer water sports for those who wish and there are of course numerous opportunities for sightseeing. Being so close to Turkey, many visitors take a trip across to the mainland. Once there, trips to the ruins at Ephesus are a popular excursion.
If a cheap Samos holiday appeals and you wish to avoid the tiresome trawl through web page after web page trying to find the best deal, try our simple search facility. You'll find over three dozen travel companies competing for your custom. It is simple to use and remember, competition brings out the best bargains. Our search facility enables you to see, at a glance, the Samos holiday that is the cheapest and the one that offers the best value for money. All you have to do to secure the holiday is make a phone call. To book the best deal, and to avoid disappointment, ring today.