Votsalakia Holidays
Votsalakia Holiday Deals
Sorry, we have no offers to display for this destination.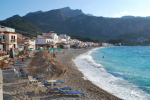 Votsalakia holidays take you to a quiet resort nestled beneath the Kerkis Mountains on the south western coast of Samos. Lying along the two kilometre beach, the resort has an excellent range of low rise accommodation, many restaurants and tavernas serving a diverse cuisine, and a good number of shops. Holidays to Votsalakia can be taken from April to the end of October. Temperatures here rise from twenty to thirty at the height of the season. Holidays in Votsalakia are popular with families and couples of all ages. It attracts many hill walkers in early and late season when the heat is less fierce. If you are seeking a guarantee of summer sun with a sandy beach and safe bathing, we have a number of Votsalakia holidays that you may find tempting.
Cheap holidays to Votsalakia
Our Votsalakia holiday deals are considered great value for money as our standards of accommodation and service remain high. The resort is as relaxed by night as it is by day so if you want a a place to chill out and recharge your batteries, our Votsalakia holiday offers may be the answer.
For further information and to find our latest Votsalakia holiday bargains, please use the search facility.