Krabi Holidays
Krabi Holiday Deals
Sorry, we have no offers to display for this destination.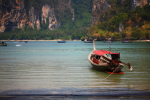 Krabi holidays transport you to the beautiful shores of south west Thailand, where the beaches have to be seen to be believed. With weird and wonderful limestone formations and towering cliffs, aquamarine seas that teem with marine life, and wonderfully warm and welcoming people, holidays in Krabi can only be described using superlatives. Holidays to Krabi can be taken at any time of year as the average temperature is thirty. June to October is the wet season. Holidays in Krabi appeal to visitors from every age group as they can be as active or as relaxed as you wish.
Cheap Holidays To Krabi
With superb silver sands and warm safe waters, it is no surprise that our cheap Krabi holidays are snapped up by families. Water sports enthusiasts have a wide choice of activities including diving and snorkelling, and the cliffs attract rock climbers. With first class accommodation and good restaurants catering for all tastes, our low cost Krabi holidays are great value as our commitment to quality and service is never in doubt. Apart from one or two lively venues, nightlife here is very low-key. Thailand is a shoppers paradise and Krabi has its fair share of retailers. Whether you want an idyllic spot to laze in the sun, or spent your days in sporting activities or sightseeing, we will have a bargain Krabi holiday to suit your needs.
For further details and to view our last minute Krabi holidays, please use the search facility.