La Pineda Holidays
La Pineda Holiday Deals
| Date | All Inclusive | Half Board | Self Cat. | Full Board | B&B | Room Only |
| --- | --- | --- | --- | --- | --- | --- |
| Nov 2023 | - | - | - | - | - | - |
| Dec 2023 | - | - | - | - | - | - |
| Jan 2024 | - | - | - | - | - | - |
| Feb 2024 | - | - | - | - | - | - |
| Mar 2024 | €454 | €373 | - | - | €342 | - |
| Apr 2024 | €340 | €259 | - | - | €228 | - |
| May 2024 | €271 | €203 | - | - | €227 | - |
| Jun 2024 | €420 | €309 | - | - | €326 | - |
| Jul 2024 | €505 | €378 | - | - | - | - |
| Aug 2024 | - | - | - | - | - | - |
| Sep 2024 | - | - | - | - | - | - |
| Oct 2024 | - | - | - | - | - | - |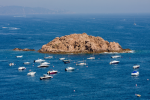 La Pineda holidays have been popular for decades. Even before the advent of cheap travel it was filled with folk from Barcelona wishing to escape the oppressive city heat. Now it is a favourite destination for families and couples. Holidays to La Pineda promise relaxation in a quiet area of the Costa Dorada surrounded by the hills of the beautiful Montenegre National Park. From April to October the temperature range is between twenty and thirty degrees. Holidays in La Pineda can be as relaxing or as active as you wish as there are many recreational activities, both land and water based.
Cheap La Pineda Holidays
With good accommodation, our cheap La Pineda holidays are considered great value for money. Restaurants serve a varied cuisine which caters for all tastes and there are a good number of shops and boutiques for those who need a little retail therapy. Nightlife is fairly low key, reflecting the resorts's popularity with families. So, if you are looking for a long sandy beach where you can get away from crowds, together with warm clear water and hot summer sun, take a look at our La Pineda holiday bargains and you may find one to suit.
For more information, and to view our last minute La Pineda holidays, please use the search facility.