Santa Susanna Holidays
Santa Susanna Holiday Deals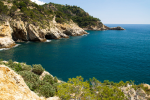 Santa Susana holidays take you to the sunny coast of the Costa Brava, forty miles from Barcelona. It is a pleasant resort framed by hills that looks out onto golden sands and the sparkling Mediterranean Sea. Holidays to Santa Susana can be taken from April until October with temperatures rising from twenty to thirty degrees at the season's height. There is over a mile� of sandy beach that offers a range of water sports and there is an exciting water park nearby. Those with young children need to be aware that, with the sand sloping quite steeply into the sea, there is deep water close to the shore. Holidays in Santa Susana have wide appeal with activities for everyone. Hill walkers and cyclists enjoy the forest trails in the National Park behind the resort.
Cheap Holidays To Santa Susanna
With good accommodation, our cheap Santa Susana holidays offer excellent value, particularly for families. Numerous restaurants cater for all tastes as there is everything from traditional fare to fast foods and international cuisine. The long promenade which joins with neighbouring Malgrat de Mar, has shops and bars galore. There is also a market in the town, ideal for purchasing holiday gifts and souvenirs. If you wish to escape from uncertain, and often inclement weather, you may be tempted by our Santa Susana holiday offers. Since our low cost Santa Susana holidays fly from the shelves, you need to book early in order to avoid disappointment. So for relaxing sunny days followed by balmy evenings, eating and drinking under the stars, reserve one our bargain Santa Susana breaks.
To discover our best Santa Susana holiday deals, please use the search facility.